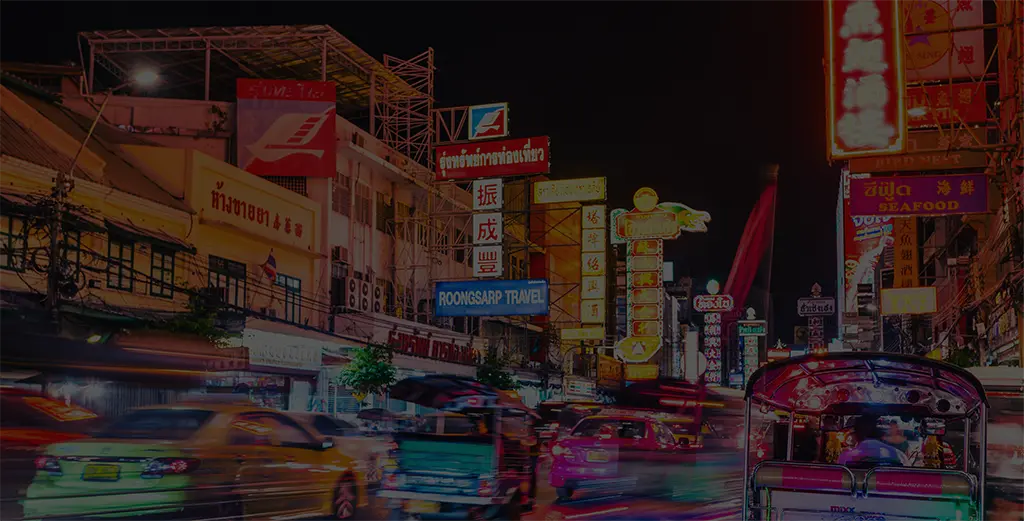 Travel Eric's way in…
Vibrant Bangkok
The best things to see and do in the colourful Thai capital
From tranquil temples to bustling markets, ornate palaces to gleaming skyscrapers, Bangkok has it all. The capital is usually the first port of call for most visitors to Thailand, and for good reason – it is, after all, one of the most exciting cities in the world. "There's so much action and energy in Bangkok. The food is delicious, the people are incredibly nice and the weather is always hot, it seems," Eric laughs. "It's vibrant, colourful, loud – but it's also one of the most peaceful places on Earth."
Join Eric as he explores this fascinating city of contradictions, and discover some of the best things to see and do in Bangkok.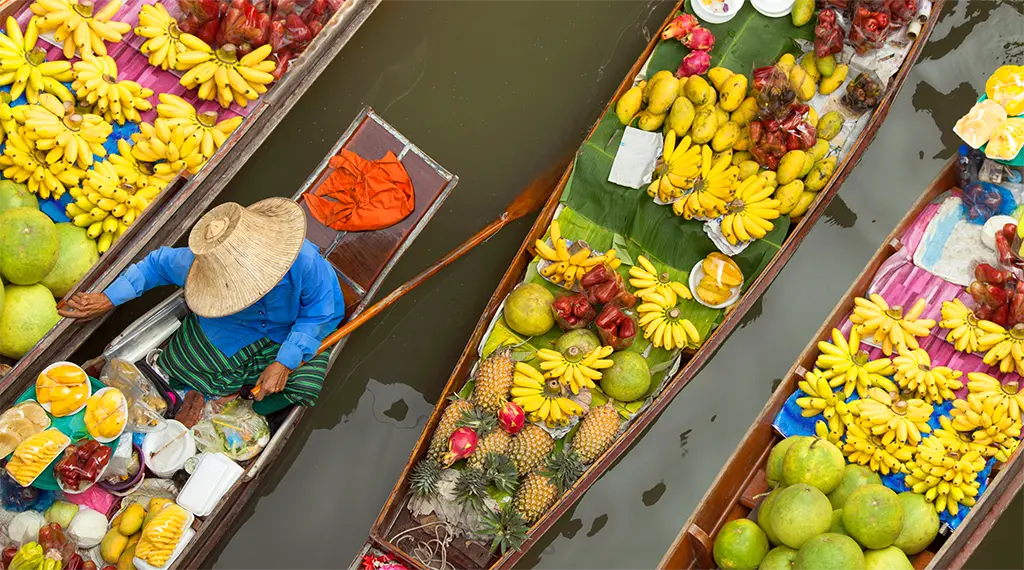 Visit a floating market
"Going to the market is always a great way to learn about the local culture, whichever country you're in," Eric says. If you're a first-time visitor to Bangkok, you've got to check out one of the city's floating markets, where vendors hawk their goods on boats. In the past, these markets were a common sight across Bangkok, when communities sprung up along the city's khlongs (canals). Today, the few that remain have become popular tourist attractions.
Located around 90 minutes from Bangkok by coach or minivan, the Damnoen Saduak Floating Market is perhaps the most famous floating market in all of Thailand. Here, you'll find everything from clothing to handicrafts and souvenirs for sale. "All you need to do is hire a boat and enjoy the unique shopping experience," Eric says. Be sure to also check out the market's varied culinary offerings – from pad thai to fresh seafood – which are cooked to order right on the water.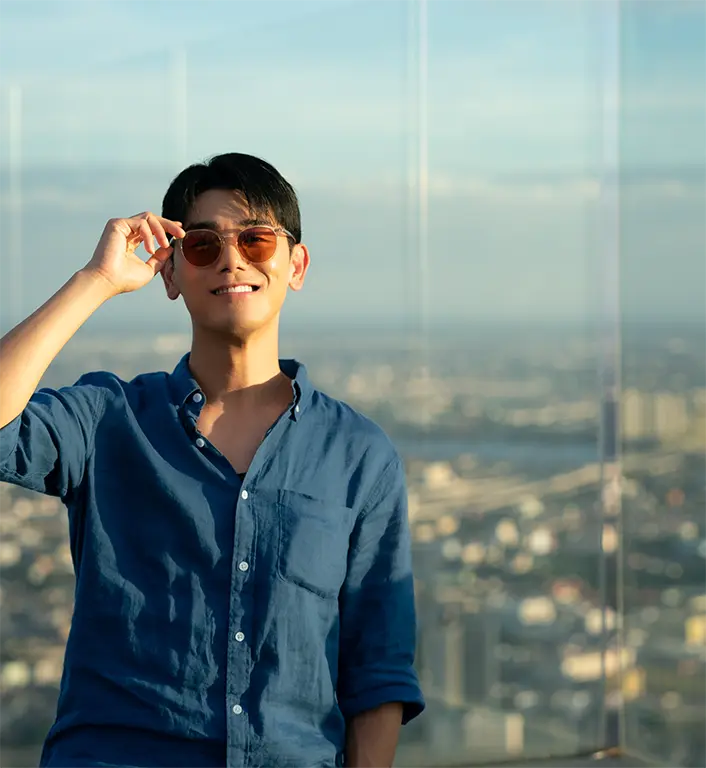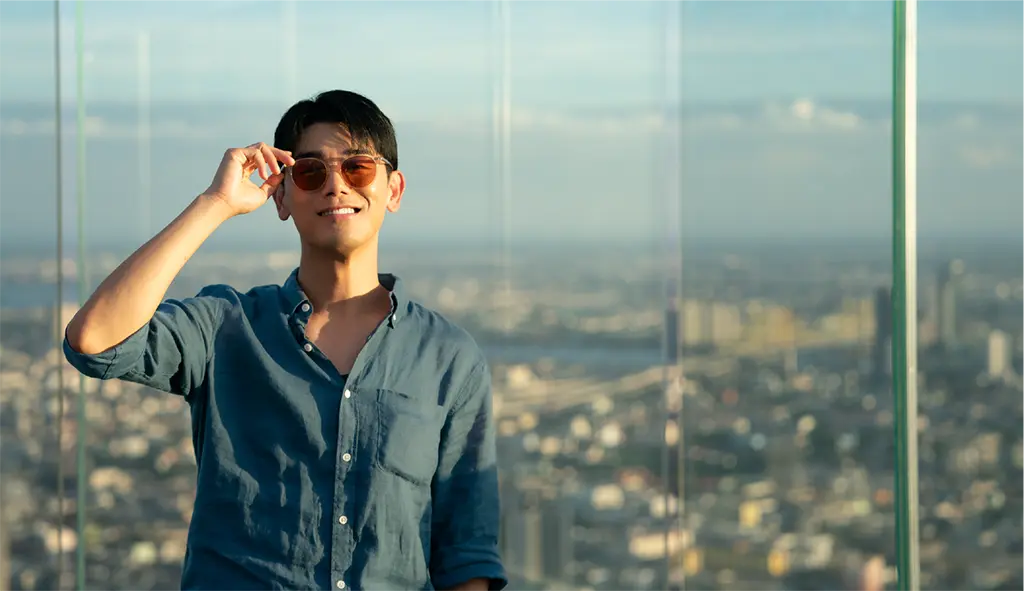 Enjoy a bird's-eye view of the city
For a different perspective of the capital, head up the Mahanakhon Skywalk in the Silom district – which is, as Eric declares, "one of the most Instagrammable places in Bangkok". Standing tall at 314m, this glimmering skyscraper offers 360-degree views of the surroundings. Here, a hydraulic glass lift will whizz you up to the "Glass Tray" on level 78 – a cantilevered glass-bottomed skywalk that's not for the faint of heart (though Eric claims to be unfazed). You can then climb a flight of stairs to "The Peak", the highest observation deck in all of Thailand.
From this lofty vantage point, you'll be able to marvel at the city's urban sprawl, and even spot some greenery – including the verdant oasis of Bang Kachao – amid the dense concrete. On a clear day, you might even be able to see all the way past the Gulf of Thailand. "Being at the top of the Skywalk and looking across the cityscape, you can see how Bangkok is changing," Eric says.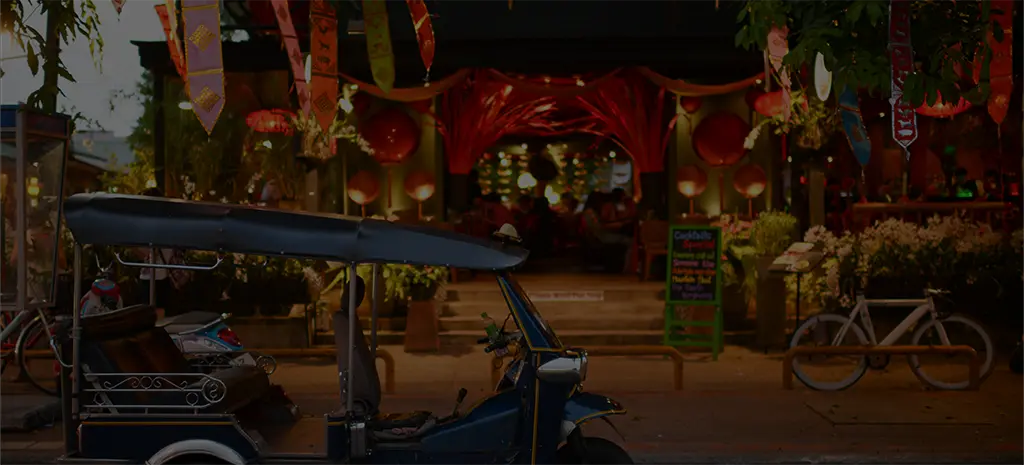 "Bangkok is vibrant, colourful, and loud but it's also one of the most peaceful places on Earth." Get away from the crowds
Bangkok may be hectic, but it's also home to pockets of tranquillity such as Wat Pho, a sprawling Buddhist temple complex. Here, visitors will find the city's largest reclining Buddha – a 46m-long behemoth covered in gold leaf – as well as the most extensive collection of Buddha images in Thailand.
Beyond the numerous temples and shrines, consider visiting the Bangkokian Museum, a trio of restored heritage houses built in the 1930s, to learn more about middle-class life in the 20th century. Book lovers should check out the peaceful Neilson Hays Library, the oldest English-language library in Thailand. Here, you can browse more than 20,000 English-language titles, from ancient leather-b0und tomes to contemporary novels and children's books.
Don't forget to enjoy a stroll in lush Lumpini Park, a 58-hectare green lung home to several walking paths, wooded areas and an artificial lake. You can even take to the water on a swan-shaped paddle boat!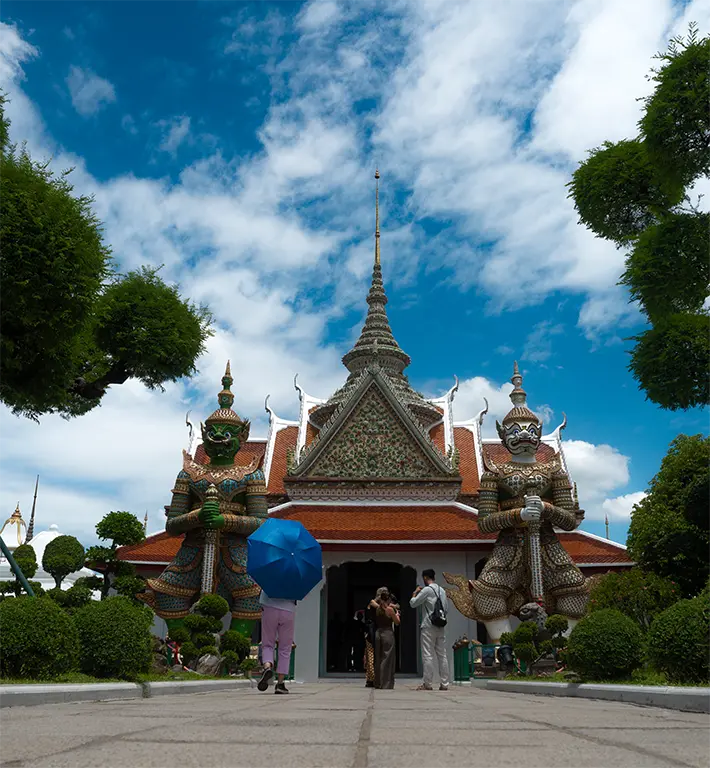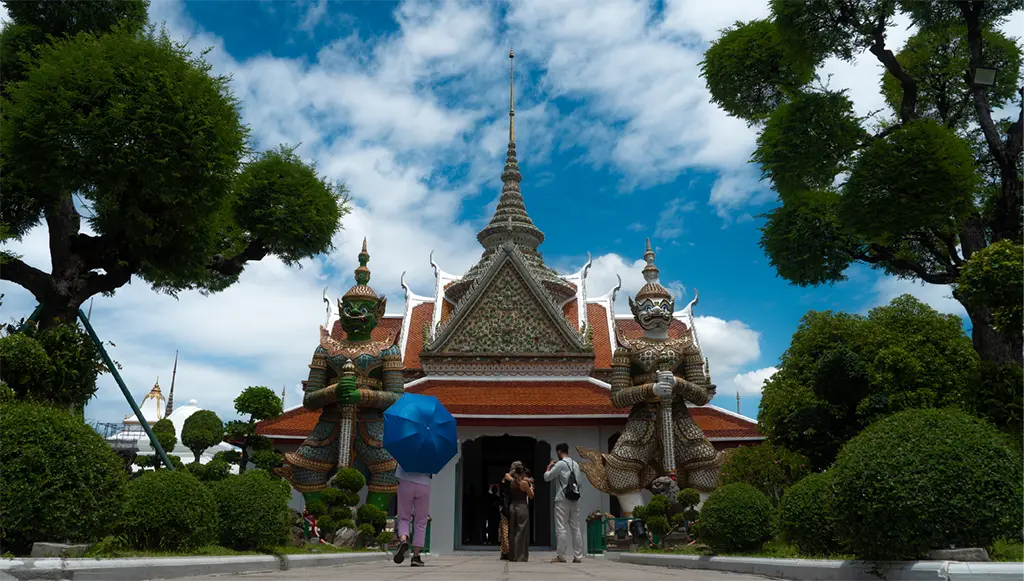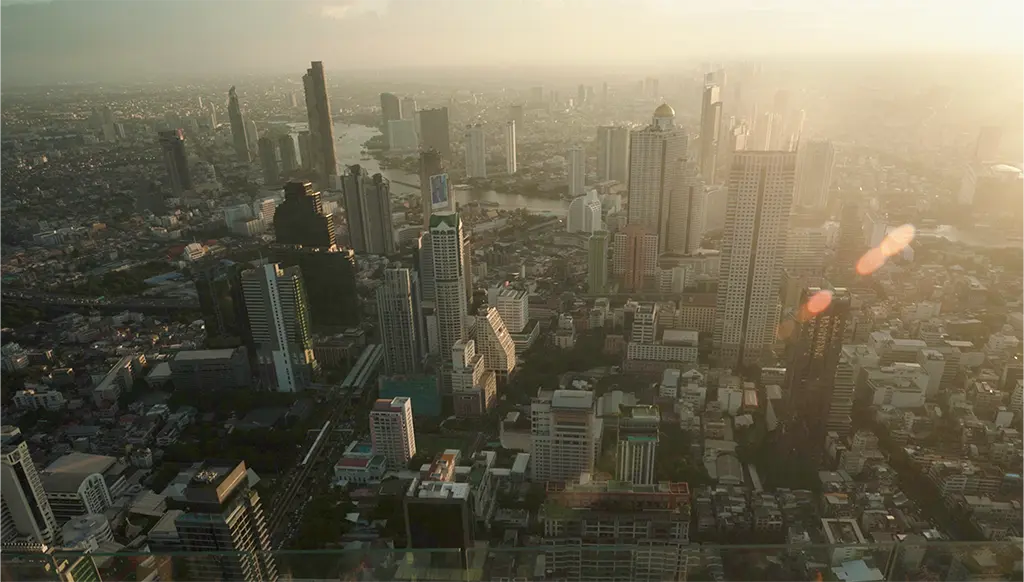 Sip on a sundowner or two
If you're hoping to catch the sunset, book a table at Moon Bar, an alfresco watering hole atop the Banyan Tree Bangkok. Here, you can sip on creative cocktails such as the Vertigo Sunset – a medley of pineapple, cranberry and lime juices plus a splash of Malibu liqueur – while feasting your eyes on the spectacular vistas.
Alternatively, take it a notch higher – quite literally – at Sky Bar, which is perched on a precipice a whopping 820 feet above ground level. A Bangkok institution, it serves cocktails such as the Hangovertini Reserve (a heady tipple featuring the rare Johnnie Walker Blue Label King George V whisky) alongside stellar sunset views.
Explore the streets of Chinatown
Bangkok's bustling Chinatown is one of the largest in the world. Its main drag, Yaowarat Road, transforms into a veritable culinary hotspot at night, with street food carts and open-air eateries dishing up everything from grilled skewers and pa tong go (Chinese-style fried doughnuts) to springy fish ball noodles and smoky claypot rice.
There's no shortage of nightlife options in Chinatown too, including the popular Teens of Thailand, a specialist gin venue that's a stalwart on the Asia's 50 Best Bars list. Order one of its inventive concoctions, such as the chilli-salted pineapple G&T, and soak up the vibes – with its convivial atmosphere, it's an excellent starting point to explore the city that never sleeps.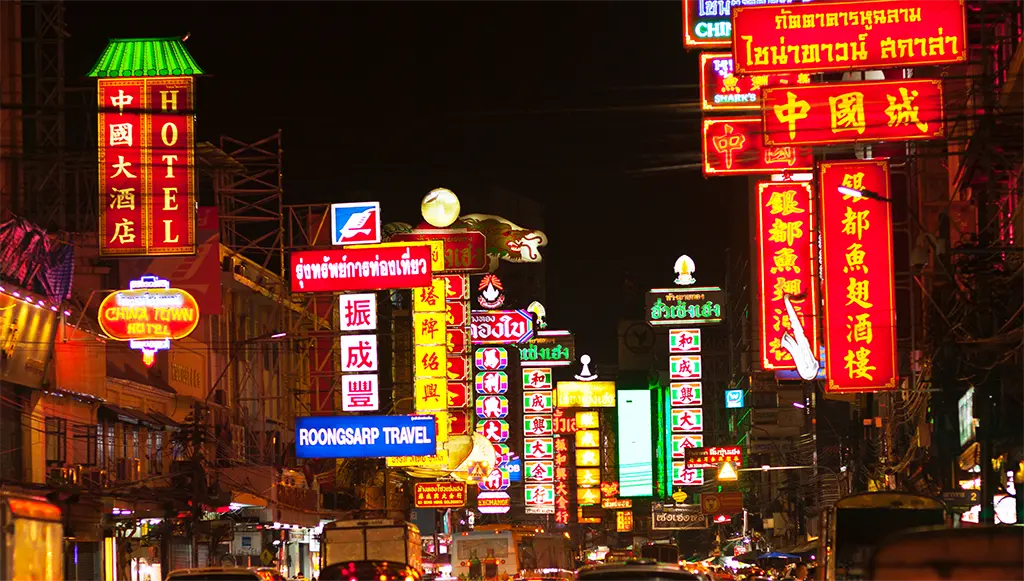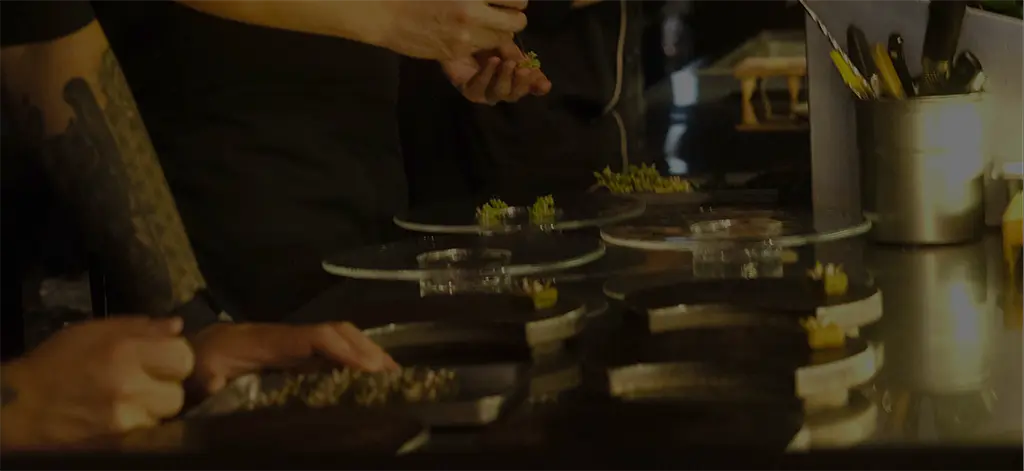 A culinary journey through Bangkok
Join Eric as he samples the Thai capital's multifaceted food scene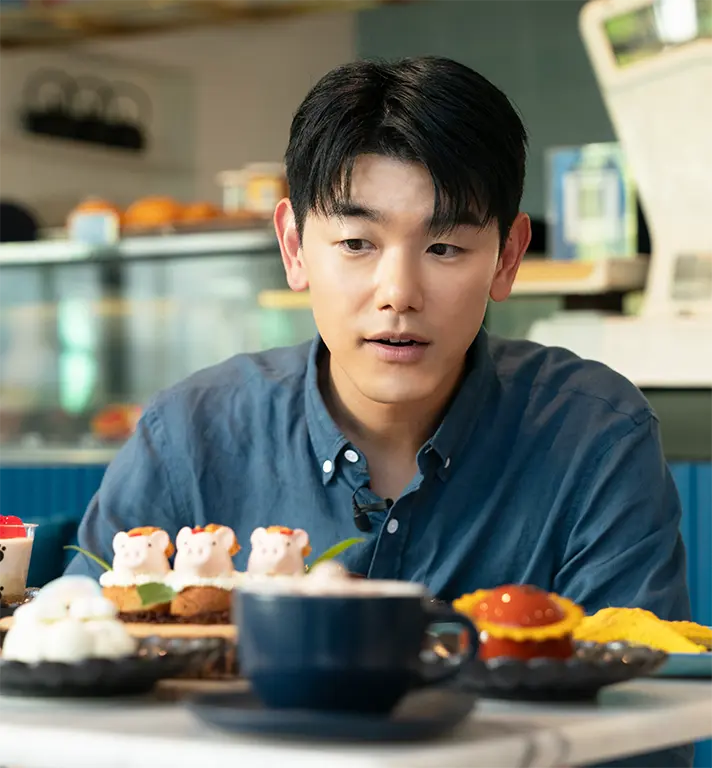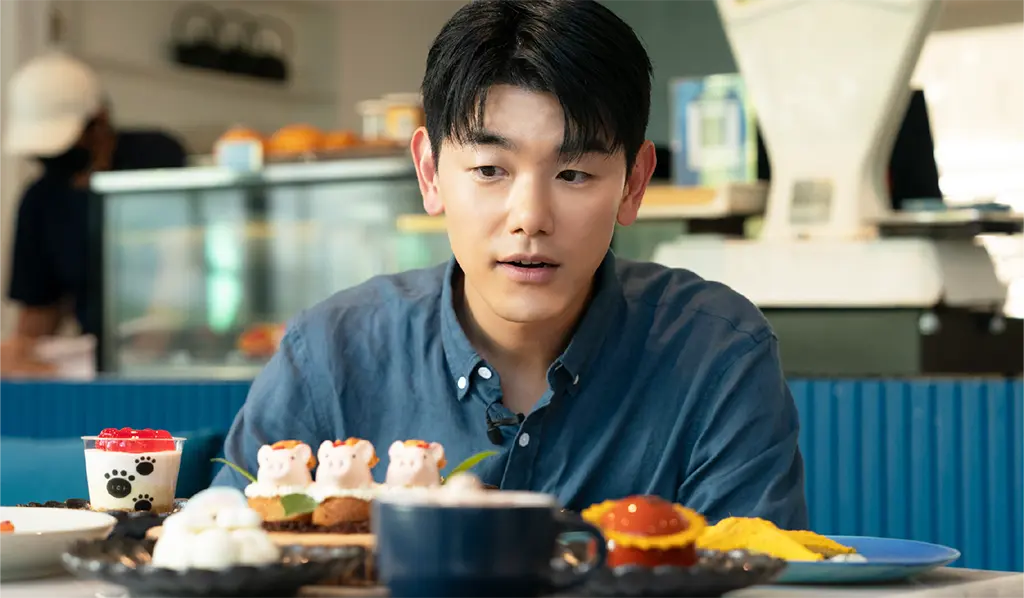 Join Eric as he samples the Thai capital's multifaceted food scene
Bangkok is a veritable foodie paradise. While the city is often dubbed the "street food capital of the world", you'll also find no shortage of trendy cafes and haute cuisine options – recently, nine of the city's establishments were named on the Asia's 50 Best Restaurants 2023 list.
"Travelling is all about exploring other cultures, and food is such an important part of that conversation," Eric says. "Personally, I'm not picky when it comes to things to see and places to go, but I'm pretty serious about food and fortunately, Bangkok is at the forefront of great cuisine. If you don't like Thai food, I question your taste – quite literally!"
Ready to tuck in? Here are some of the best places to eat in Bangkok's top foodie neighbourhoods.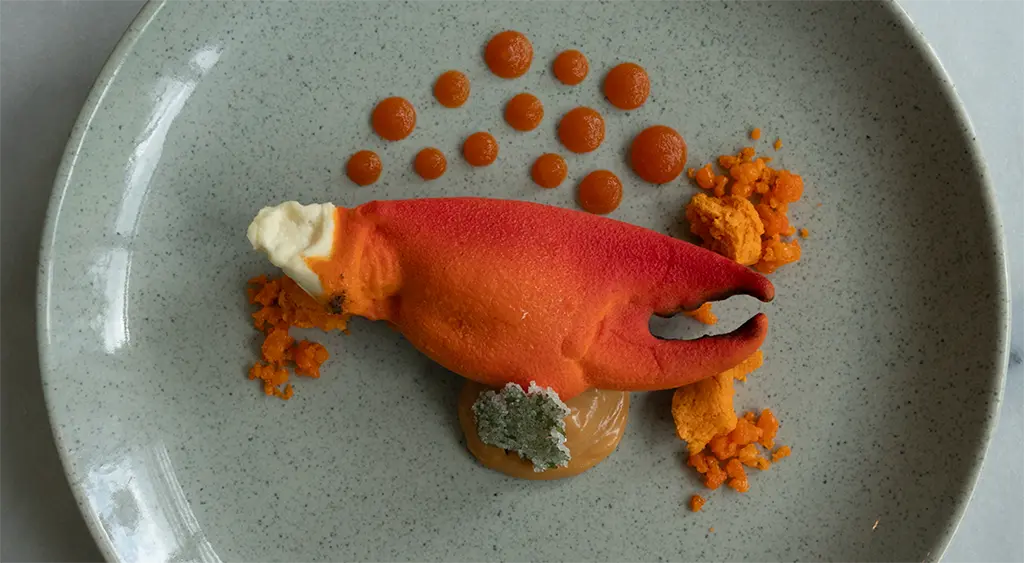 Phrom Phong
This buzzing neighbourhood along Sukhumvit Road offers a wide range of culinary options, from upscale restaurants to trendy cafes. Top of your list should be Sorn, a Michelin-starred restaurant housed in a restored two-storey mansion. While most of us are familiar with dishes such as pad thai (stir-fried rice noodles) and green curry – central Thai cuisine, in other words – Sorn's head chef, Supaksorn "Ice" Jongsiri, prefers to spotlight southern Thai fare, which is characterised by big, bold flavours.
Here, chef Ice and his team reinterpret traditional recipes using modern techniques, using sustainable ingredients sourced from across southern Thailand. Standout dishes on the 22-course menu include the decadent Gems on Crab Stick, which features blue swimmer crab legs coated with crab roe.
For dessert, head to ICI.BKK for Instagram-worthy creations such as the Chilli Crab, a cake that looks impressively like the real deal. Here, a "crab claw" is fashioned out of a tomato sponge cake, served alongside calamansi mousse, chilli sauce and coffee caramel, and then garnished with salted egg crumb. Other noteworthy desserts include the Poodle Doodle, a dog-shaped cake with a butter cheese frosting, and the Starfish, a bright yellow creation made with a coffee-vanilla mascarpone mousse and filled with pineapple compote and praline.
Ekkamai
Ekkamai is often overshadowed by neighbouring Thong Lor, but it certainly holds its own when it comes to food options. For starters, this is where you'll find Wattana Panich, one of the most famous eateries in Bangkok. "I've heard so much about this family-run restaurant, which goes back generations," Eric says. "I'm not just talking about how long it has been around for – it also serves a soup that has been cooking for more than 50 years!"
The soup in question is a beef broth that has been simmering non-stop in an enormous vat for half a century. Each morning, the owners use some of the leftover broth from the previous day as a stock base, adding water and fresh ingredients – including nearly 10 different Chinese herbs and spices – to the mix. The result is a rich, flavourful broth used to make the eatery's signature kuay teaw nua (beef noodles), which comes topped with meatballs and innards. Eric's verdict? "This has been 50 years very well spent, and I'm glad the family has kept the recipe unchanged," he declares.
For more carnivorous eats, check out 100 Mahaseth Ekamai – an outpost of the popular Charoenkrung restaurant – which champions nose-to-tail dining. Its meats are sourced from local farmers across the country, and feature in delectable dishes such as the Thai Beef Jerky (grilled, pounded and pulled beef jerky with a galangal and chilli powder) and the Northerner's Hot Dog (spicy sai oua sausage topped with green chilli relish).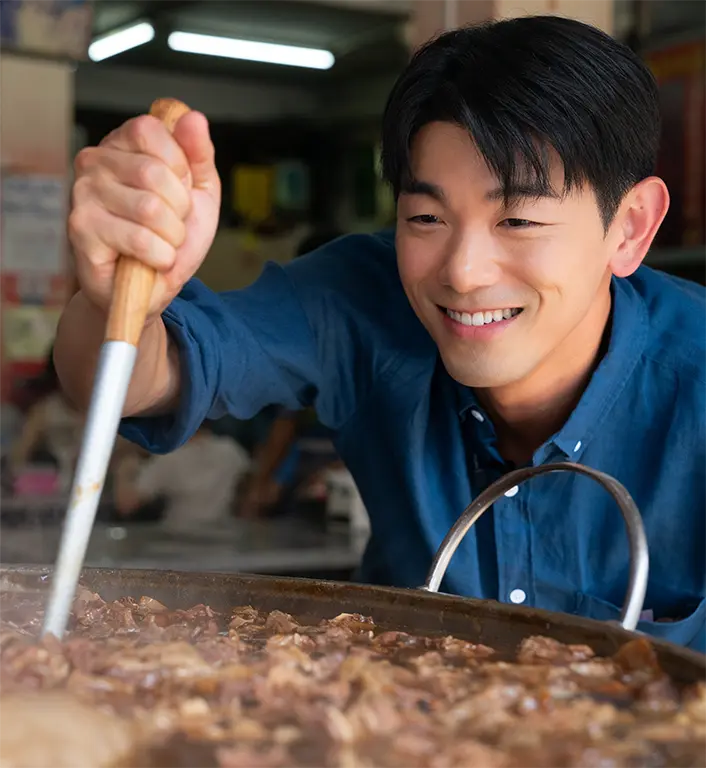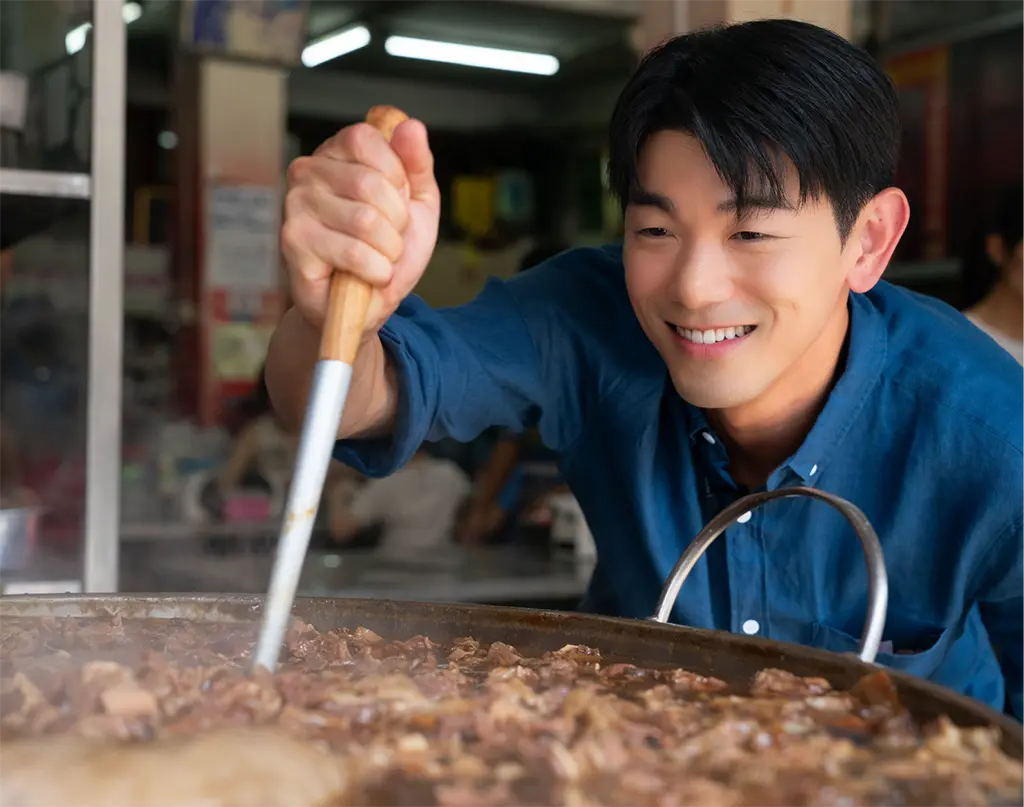 "Travelling is all about exploring other cultures, and food is such an important part of that conversation."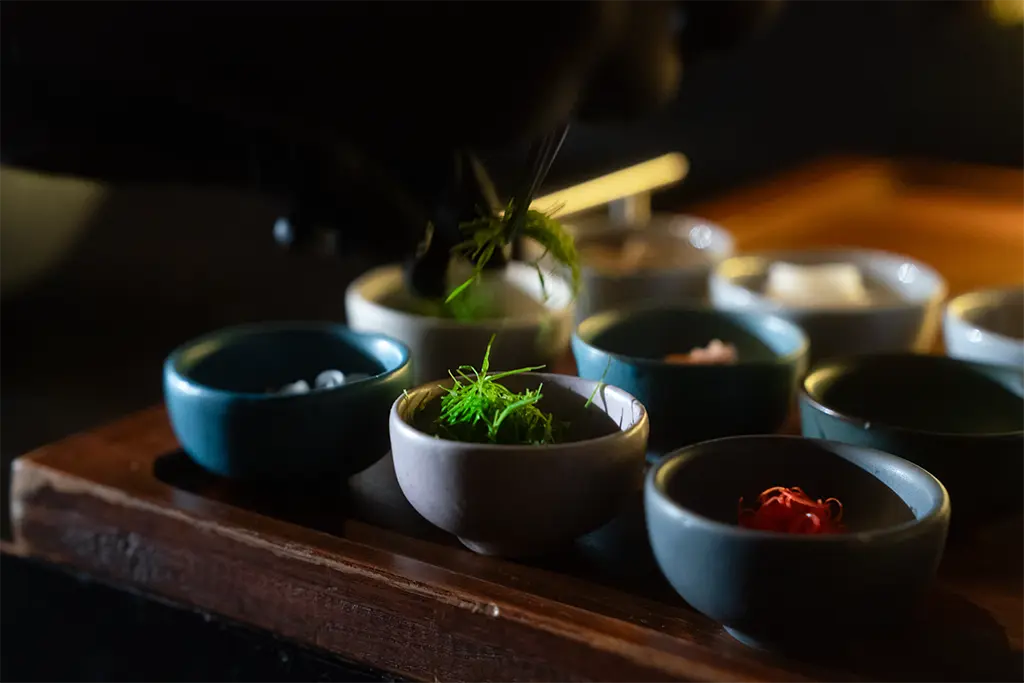 Silom
Bangkok's gleaming business district is home to several fine-dining hotspots including Le Du, which recently topped the Asia's 50 Best Restaurants 2023 list. True to its name, which is derived from the Thai word for "season", the restaurant combines the best seasonal produce with age-old culinary techniques and a dash of modern flair. The four- and six-course tasting menus change regularly, but diners can expect inventive dishes such as crab with mushroom and homemade sriracha, aged duck with kale and green curry, and golden snapper with sticky rice.
Another must-book venue in Silom is Eat Me, a high-end fusion restaurant that marries global influences with local flavours. Dishes here run the gamut from a Thai-inflected spicy lemongrass chicken to a Japanese-inspired sea urchin rice and an Australian saltbush lamb rack.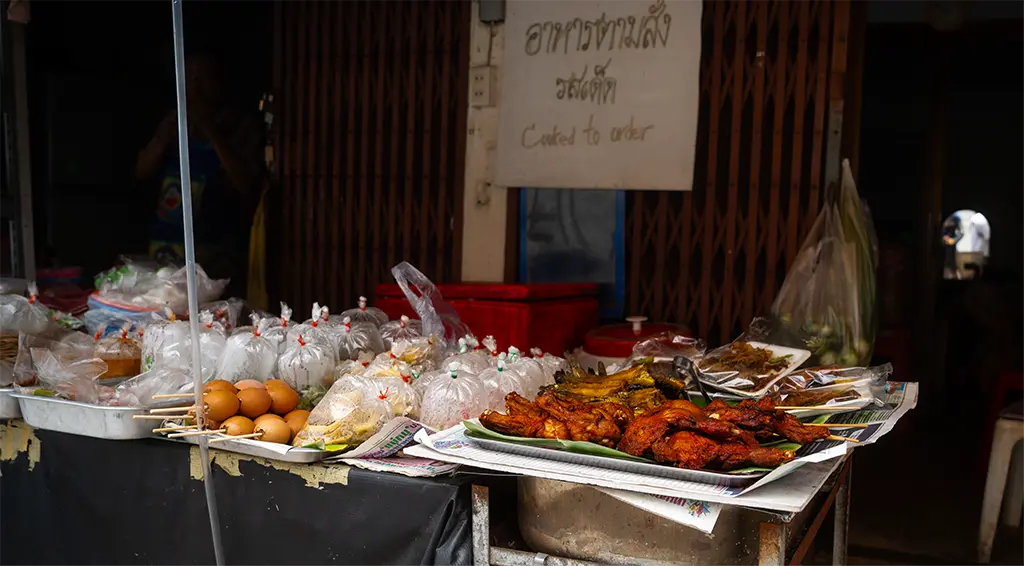 Yaowarat
Of course, no Bangkok food list is complete without mentioning Yaowarat – better known as Chinatown – where street food vendors dish up everything from pad krapao moo (stir-fried pork with holy basil) and khai jeow (crispy omelette) to mango sticky rice. Make a beeline for the Bib Gourmand-awarded Guay Jub Ouan Pochana, which is renowned for its guay jub (rolled rice noodle soup) topped with juicy slices of pork belly. Or brave the snaking queues at Khao Gaeng Jek Pui, a family-run roadside stall specialising in the simple but oh-so-delicious combination of rice and curry.
For a proper sit-down affair, check out Charmgang, a trendy, neon-lit eatery serving up contemporary Thai cuisine. Dishes on the rotating menu feature the likes of smoked kingfish curry with pennywort, grilled cuttlefish with young mangosteen and torched ginger, and prawn cakes with kaffir lime relish.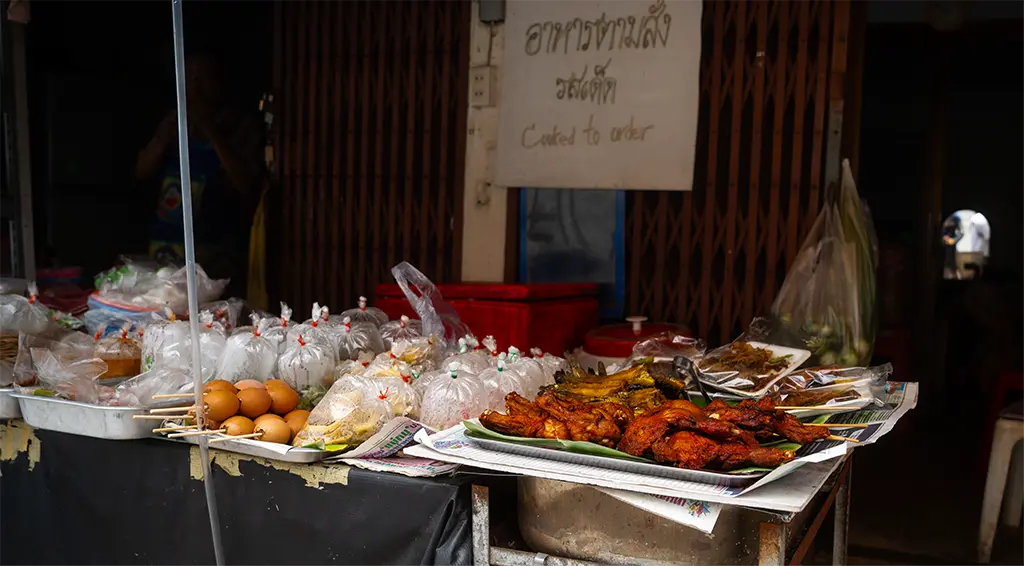 Travel Eric's way in…
Historic Hoi An
Experience the city from a different vantage point, whether it's riding a traditional basket boat or exploring the Ancient Town on two wheels.